I decided to play a game over the festive season, my son couldn't make it so it had to be a solo game, however he took part in the deployment and overall strategy of Morcant's army over email and any other decisions where decided by my 'commonsense' or a die roll. The best thing about this game is that although I had taken part in the Gravesend tournament and bowed to other players knowledge of the game, in this I had to look at the rules and digest them, therefore I understand why things happened a lot better. My thanks to Dave Toone for online advice on several rules points. Anyway here is my report, the armies were around 2000 points and the game was played on a 6x4 foot table, to be honest this could have been slightly larger with those numbers, but for a solo game it worked.
Morcant
A 24 x Commanipulares with Morcant
B 32 x Pedyts
C 24 x Milites with Bishop
D 24 x Mercenary Geoguth
E 24 x Mercenary Duguth with Decurio
F 10 x Commanipulares
G 13 x Sagittari
H 13 x Javelins
Constantine
1 32 x Mercenary Franks with Shaman
2 24 x Mercenary Gedriht with Constantine
3 24 x Mercenary Duguth
4 32 x Mercenary Geoguth
5 24 x Milites with Decurio
6 10 x Milites
7 13 x Mercenary Slingers
8 13 x Mercenary Javelins
17th October, 544AD, the feast of St. Ignatius of Antioch.
Constantine, one time Tribune of Caer Celemnion, is deploying his army in a battle to claim back his province. Exiled after a bitter civil war by a powerful faction under the sway of the Legatus Morcant, a rich and ambitious man, Constantine made his way to the court of his father-in-law in Belgica. Here he promised great rewards to anyone who could help him regain his position, this drew a great many adventurers to his standard to which he could add a small, faithful group of his own countrymen.
Morcant's army stands ready for a fight, he has brought his best troops and he too has spent money, pagan banners can be seen amongst the host as well as Christian standards, the die is cast.
Both men look for a swift decision and each commands his army to advance. Morcant takes a moment to form shieldwalls and places himself at the head of his household troops, not a moment too soon as Constantine hurls his men forward. Helped by a small hill the invaders crash into the wall of shields, mercenary Gedriht with Constantine alongside rout their enemies, Morcant does the same and makes short work of the impetuous Franks. God has made his decision however and soon Morcant's left flank is all but destroyed, only his companions remain with him on this part of the field as Constantine begins to surround the survivors.
On Morcant's right the mercenaries of both sides have spent most of the day glaring at each other, the Saxons obviously not wishing to harm each other unless victory is assured, perhaps the British lords should have spent more. Morcant's cavalry however did despatch Constantines mounted Milites, albeit took time. Seeing no need to die for a lost cause, the Saxons warily made their way from the field, their opposite numbers happy to see them go.
Overall plan.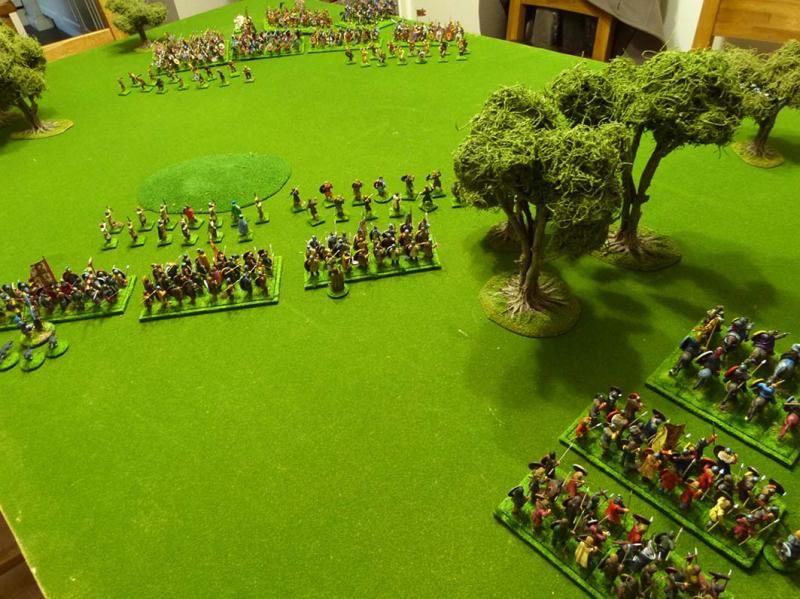 The armies deploy.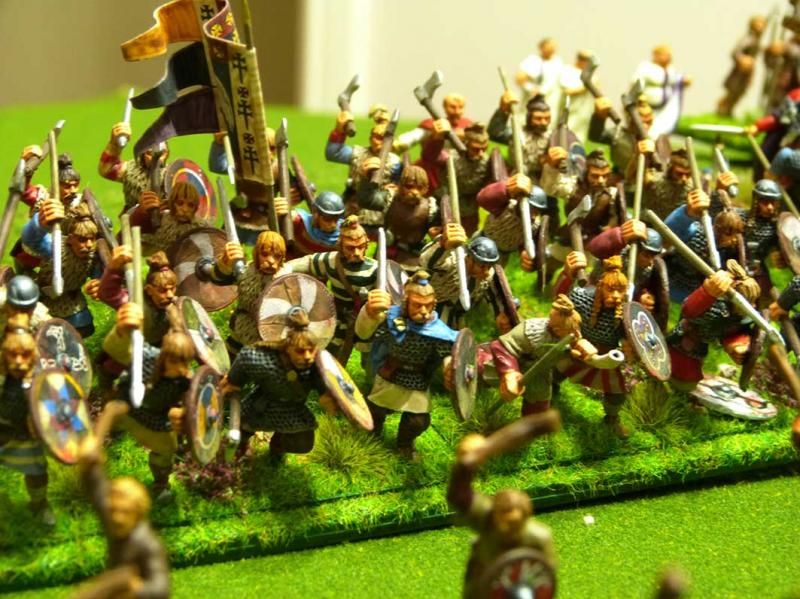 The Franks.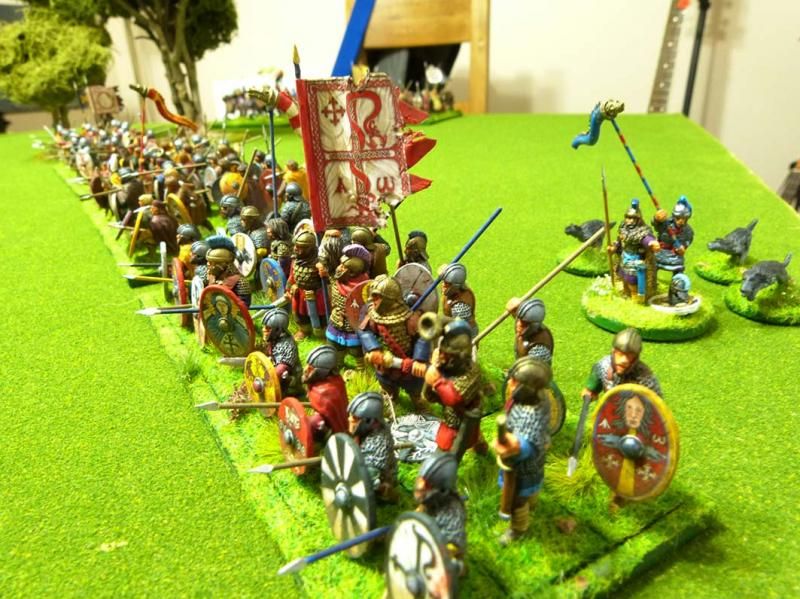 Morcant and his shieldwall.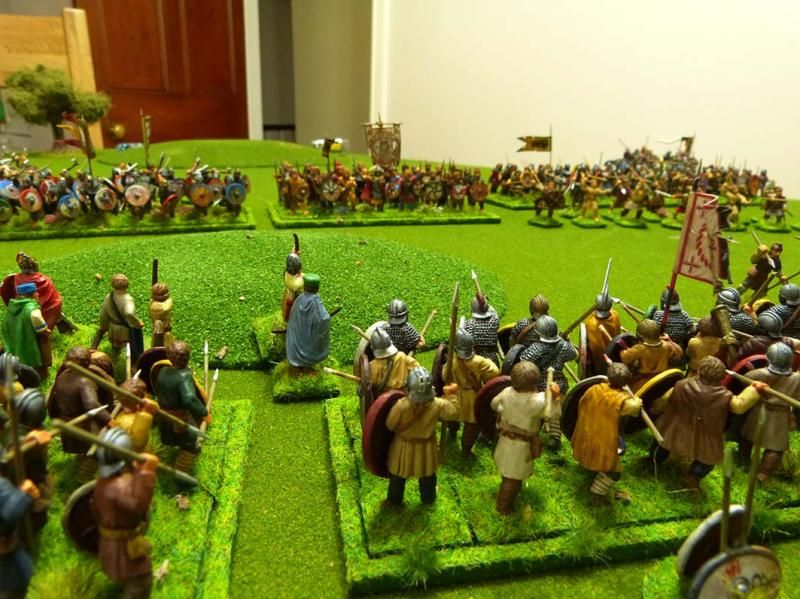 Constantine advances.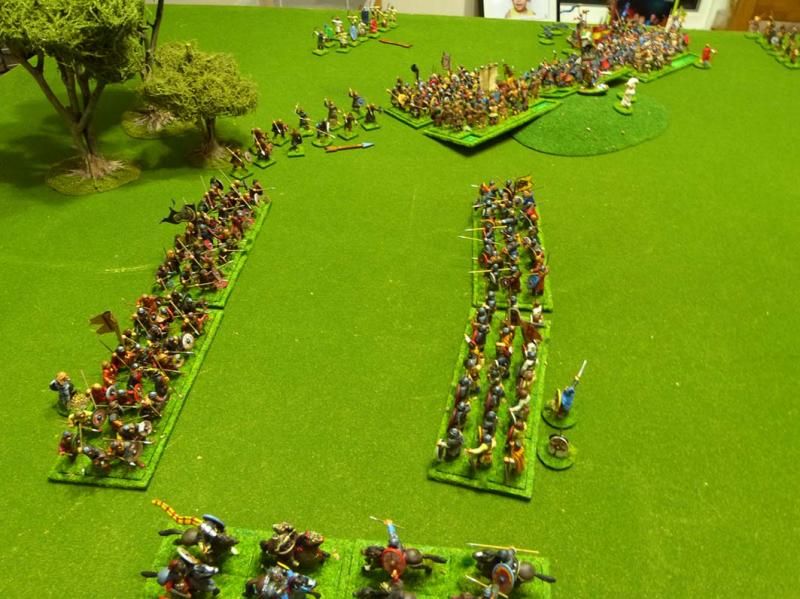 The armies clash.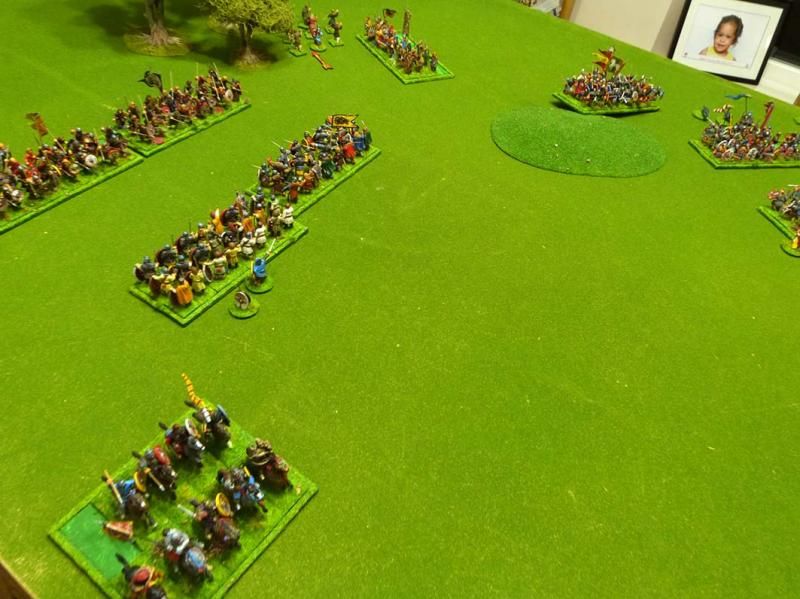 The end, Morcant is surrounded in the top right while the British threaten the remaining Saxon mercenaries.
I do admit to wishing Constantine to win, but I played fair.